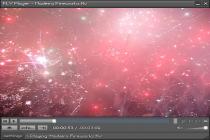 An excellent free Flash animation player.
FLV Player in other languages:
FLV Player en castellano
FLV Player em português
FLV Player in italiano
FLV Player w języku polskim
FLV Player is a standalone utility (ie, it runs by itself, it doesn't require installation) used to play files of the type FLV (Flash Video), and also those encoded with H.264 or MPEG-4.
The FLV Player program has support for local or remote content. This means that you can play a file that you saved on your hard drive, or a video that's hosted on the network through streaming. It also supports full screen playback.
You can view multiple files simultaneously in FLV Player. Simply drag the ones you want to the main program window. The zoom options, the standard playback controls or association with FLV type files of complete a very functional player.
In summary, FLV Player is an ideal application for users who work regularly with Flash-like multimedia materials, and value the privilege of downloading its programs.Take advantage!
Searches related to FLV Player