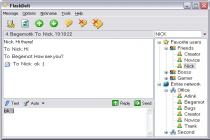 An excellent utility to communicate in real time on LANs.
FlashDeli in other languages:
FlashDeli en castellano
FlashDeli em português
FlashDeli in italiano
When there are various users connected on the same LAN, and you want to communicate with each other, it's not necessary to use complex "general" messaging programs. You can save time and resources using a more specialized tool for LAN messaging, like FlashDeli.
Windows uses a very basic messaging system for networks, called Winpopup. This is the same protocol that FlashDeli uses to exchange messages. This way you can save yourself from servers, configurations, adjustments, etc ... everything works smoothly right from the start. Forget about forgetting messages or asking yourself if they reached their destination. This program is easy to use and light. Send messages to your colleagues easily, without interruptions or breaks.
Searches related to FlashDeli