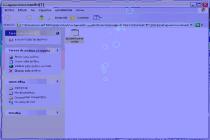 A relazing and attractive screensaver.
Fishbowl Screensaver in other languages:
Fishbowl Screensaver en castellano
Fishbowl Screensaver em português
Fishbowl Screensaver in italiano
If you're someone who likes aquariums, and you relax when you see one, now you can have it on your PC screensaver with Fishbowl.
The function performed by this Fishbowl screensaver is providing the effect of water in a bowl, on your PC, giving you the feeling that you're watching an aquarium permanently, at the same time as you work on your PC. Another effect that this screensaver offers is to make you feel like you've dived under the sea. The mouse cursor will turn into a fish and swim through the water.
Fishbowl Screensaver is a wise choice for those who like everything about water and water activities.Take advantage and download it now, it's free!
Searches related to Fishbowl Screensaver