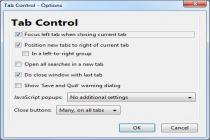 Decide for yourself the functions of the Firefox tabs.
Firefox Tab Control in other languages:
Firefox Tab Control en castellano
Firefox Tab Control em português
Firefox Tab Control in italiano
The speed with which the new Firefox browses, although welcome, can also provoke problems when the function of something changes without warning. And in the case of Firefox's tabs, one of its signature features, these changes aren't appreciated by everyone. But thanks to Firefox Tab Control, Mozilla allows you to be the one who decides how the tabs work!
Firefox Tab Control gives you absolute control over the way the Firefox tabs open, whether on the right, at the end (the "old" way that Firefox used to open them) or anywhere you like. And in addition to how they open, Firefox Tab Control lets you define other options for these tabs, easily and as you like.
Searches related to Firefox Tab Control