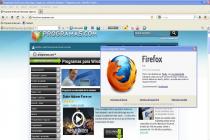 Browse quickly and securely with Firefox.
Mozilla Firefox in other languages:
Mozilla Firefox em português
Mozilla Firefox in italiano
Mozilla Firefox w języku polskim
For its strength in the sector and its status that's consolidated over the years, Mozilla Firefox is a web browser that needs no introduction. Since its emergence, it has been in constant evolution, which has allowed it to stay at the top in terms of functionality, appearance and ease of use for a long time.
Mozilla Firefox was one of the first web browsers to incorporate the tabbed navigation system. At present, apart from that, it's able to seduce you for allowing you to carry out private browsing sessions, for its own security options (such as warning you of attacker websites), by its system of clearing the history log, for its great management markers, the ability to save and restore sessions, on the download manager, etc.
If anything distinguishes Mozilla Firefox from the rest of it's competitors in the browser market pointers (Safari, Opera, Camino, etc.) it's that fact that you can expand its broad range of functions and appearance customization through the myriad of plugins that can be download from the Internet.
Searches related to Mozilla Firefox