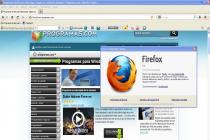 One of the best to browse via Lunix.
Mozilla Firefox in other languages:
Mozilla Firefox em português
Mozilla Firefox in italiano
Mozilla Firefox is one of the most popular web browsers in the world, and a tough competitor of the ubiquitous Internet Explorer. Updated constantly it has, among other functions, tabbed browsing, browsing history, favourites management, and other functions found in any browser.
One of the main strengths of Mozilla Firefox is the possibility it offers to add multiple accessories through extensions of all kinds, to correct texts, speed up downloads, synchronize files, and almost anything imaginable.
In addition, Mozilla Firefox can be customized through skins (to change the appearance in a partial or complete way), use plugins, patches, languages, etc. All through a simple process, as all you need to do is go to the Mozilla extensions page, click on the one you like, and restart the browser. It's that easy and comfortable. It can also be done from the browser through the tab "Add" under "Tools."
Join the large group of people who have shown their support for this great browser, and download Mozilla Firefox, the browser of the future, for free.
Searches related to Mozilla Firefox