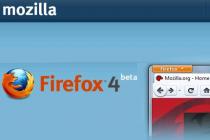 Be the first to try the new Firefox!
Firefox Beta in other languages:
Firefox Beta en castellano
Firefox Beta em português
Firefox Beta in italiano
Do you want to discover before anyone else all the news that the new Firefox will bring? Well it's as simple as testing this Firefox Beta, ready with many new things already implemented! And there are a few, from as many as 23 languages ​​offered by Firefox for its interface, a new way to load web pages, which will drastically increase surfing speed with this program.
And there's more: new management system markers, using tabs, integration with applications, a menu bar completely different ... Many developments, which is logical when talking about a major release.
And, without doubt, the best way to discover and enjoy it is to try it. So download this Firefox Beta now which is, obviously, offered for free, as well as the other versions. Don't hesitate, and try Firefox Beta, then you'll discover how and with what weapons Mozilla intends to continue fighting hard for the position of most used Internet browser in its tough battle with Internet Explorer and Google Chrome.
Searches related to Firefox Beta