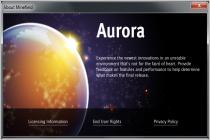 If you like to get ahead of the rest, try the most advanced version of Firefox!
Firefox Aurora in other languages:
Firefox Aurora en castellano
Firefox Aurora em português
Firefox Aurora in italiano
With Firefox Aurora, the Mozilla Foundation designers, creators of the popular Firefox browser, offer you to try a version of this browser in which experiments, follies and new features are implemented, where they are working to improve this great browser.
Aurora Firefox can't be considered a beta version, but rather a "testing ground" where you can discover for yourself how surfing the net will be in the future, experiencing the latest innovations in this field. And you can comment on them as if you were another designer, so that Mozilla will get your ideas and opinions about the features and performance of this Firefox Aurora, and they'll be assessed to decide what will be the final version of Firefox.
All this in a browser, not completely stable of course, but one which allows you to seamlessly navigate (at high speed, it must be said), and is available now translated into a number of languages. Download Firefox Aurora, and discover the future of Firefox!
Searches related to Firefox Aurora