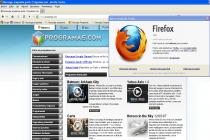 Firefox continues to innovate in the latest version of its browser.
Mozilla Firefox in other languages:
Mozilla Firefox en castellano
Mozilla Firefox em português
Mozilla Firefox in italiano
Mozilla Firefox w języku polskim
Mozilla Firefox in het Nederlands
At Mozilla they know cannot rest on their laurels with their Firefox browser, despite it being one of the most popular on the market. Therefore, for a long time they've been launching new versions of their browser at a frenetic pace, always with improved navigability and ease of use for users of Firefox.
And so, just months after the departure of the previous version of Firefox, which permeated both among its followers as they wished, so we have here the new version, Mozilla Firefox 7.0. It's a Firefox with a fresh and modern design, with new features designed to better integrate into the new world of social networks, so much the fashion today.
Thus, this new version of Firefox, using the rapid cycle of development that has taken place, brings new features to the latest generation for this browser, as well as performance enhancements, security updates and increased stability for users. So, despite the short time that has elapsed, this latest version of Firefox includes over 1,000 enhancements that will facilitate both the use and discovery of all the new features in Firefox.
Furthermore, with this new version of Mozilla Firefox you get support for next-generation Web technologies, so that developers will find it even easier to create add-ons for Firefox, web sites and applications. That, as always, will be totally free, because if it's not free, it's not Firefox!
Searches related to Mozilla Firefox