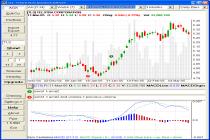 All types of charts, graphics and diagrams available to you.
Fcharts SE in other languages:
Fcharts SE en castellano
Fcharts SE em português
FCharts SE is a free application to keep control over stocks, shares or any other activity that needs you to follow them via charts and graphics.
FCharts SE offers you everything in the tray: integrated indicators, the possibility to insert your own, draw all types of lines, tendencies, etc, with a few mouse clicks, move them, change the size, print what you want in colour or black and white, download and clean the integrated databases, Fibonacci lines, etc. There is a commercial, more advanced version called FCharts Pro.
Searches related to Fcharts SE