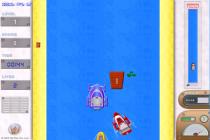 Scary boat racing full of obstacles and excitement.
Fast Boats in other languages:
Fast Boats en castellano
Fast Boats em português
Fast Boats offers you a wide variety of exciting boat races. The speed of these machines which fly over the water make the races quite scary and there is no second to rest. In each level you must choose a new route full of obstacles which you must complete before time runs out. The obstacles, if you don't manage to avoid them, reduce your speed, damage your boat, or provoke accidents with your rivals, who are obviously trying to make your life difficult. You can also play Fast Boats against human opponents from around the world.
Searches related to Fast Boats