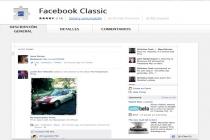 If you don't like the new changes to Facebook, leave it as it was!
Facebook Classic in other languages:
Facebook Classic en castellano
Facebook Classic em português
Facebook Classic in italiano
Facebook Classic w języku polskim
Don't like the new features, without warning, that Facebook has made to your interface? Don't worry, because with Facebook Classic, a free extension for Google Chrome, you can return to the old interface, without having to do anything but download and install Facebook Classic.
Specifically, Facebook Classic restores your Facebook chat, which is now once again hidden by default, as well as hiding the titlebar, and the update panel is now located on the right of Facebook. Facebook Classic is automatic, and when it's installed, your Facebook will be the same as before!
In addition, Facebook Classic lets you choose for yourself if you want to keep some of the new Facebook changes, and which ones. Don't let them do it for you, pick yourself what you see on your Facebook, with Facebook Classic!
Searches related to Facebook Classic