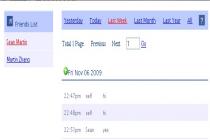 Save your Facebook chat conversations.
If you have a Facebook account and often use the chat, probably on more than one occasion you have wished for the chance to save the written conversations you have had, so you could read them later. If up until now you haven't, with Facebook Chat History Manager you can now do it, with this simple, free download.
Facebook Chat History Manager is an add-on for Mozilla Firefox with which you can save your Facebook chat sessions in your PC, in a local directory. The program has a very simple interface, from where you can organize and consult the conversations you had in different ways: yesterday's, today's, last week's, last month's or even last year's. You can also view the Facebook chats by username, and see the title of the session which corresponds with the first phrase sent or received in the chat session.
As is normal, Facebook Chat History Manager also lets you delete this log easily, and also export it. Get more out of your Facebook!
Searches related to Facebook Chat History Manager