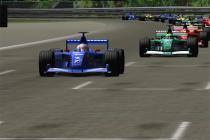 All the excitement of a Formula 1 race on your PC.
F1 Racing 3D Screensaver in other languages:
F1 Racing 3D Screensaver en castellano
F1 Racing 3D Screensaver em português
F1 Racing 3D Screensaver in italiano
Imagine being able to have a screensaver in which you can also feel the excitement and intensity of a Formula 1 race? Stop imagining and try F1 Racing 3D Screensaver now, for free.
By installing it on your PC you'll feel how an F1 car roars on your PC, with graphics that are really worthy of the best Formula 1 games, and you can also have the best cars in the world on your PC. And all thanks to this perfect simulation game, in which you'll be able to play and be the winner of a Grand Prix. Such is the realism of this screensaver, it'll seem like you're really in the race.
So if you're a big fan of Formula 1, download this screensaver now, because you won't regret it. You'll have at your disposal the best drivers on the Formula 1 grid, in 3D, and on your desktop. Delaying any longer is wasting time.
Searches related to F1 Racing 3D Screensaver