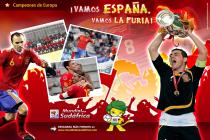 Celebrate the World Cup won by Spain in South Africa 2010.
España World Cup 2010 in other languages:
España World Cup 2010 en castellano
España World Cup 2010 em português
España World Cup 2010 in italiano
The Spanish came to South Africa 2010 as the brand new European champions and playing some fabulous football. And as a favourite to win the World Cup, a trophy they'd never lifted before ... meaning the question in the minds of the fans was would this tournament finally be one where Spain realizes its full potential?
And the answer was - yes! Spain won the World Cup in South Africa during 2010, its first World Cup. Carried aloft by the support of their followers, all Spain followed their team. And what better way to celebrate this victory with this free wallpaper, Spain World Cup 2010?
Since its slogan - Come on Spain Come on Fury! - the images that make up this Spain 2010 World Cup wallpaper, with red and yellow colours decorating everything, and Casillas lifting the Cup, which also raised the patriotic spirit of the whole country. So download this wallpaper now, and continue to encourage the Reds every day, and hope for further success ... that surely will come!
Searches related to España World Cup 2010