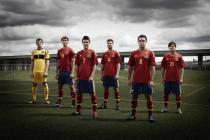 Are you ready to support Spain in Euro 2012?
España Euro 2012 in other languages:
España Euro 2012 en castellano
España Euro 2012 em português
España Euro 2012 in italiano
España Euro 2012 w języku polskim
España Euro 2012 in het Nederlands
Call it what you want, UEFA EURO 2012 European Team Championship, or simply the Euro in Poland and Ukraine. The important thing is that it's about to begin. And how could it be otherwise because, after winning the previous European Championship in 2008, and the World Cup two years later, the Spanish football team comes to this championship as favourites, and determined to keep winning the title for their fans.
And what better way to start preparing for the occasion than decorating your desktop with the new Spanish national team jersey Euro 2012? That's what's offered here with the wallpaper Euro 2012 Spain, and with luxury models!
Casillas, Llorente, Villa, Silva and Xabi Alonso pose to show you the new shirt for Euro 2012 Spain, so put this Euro 2012 Spain wallpaper on your screen to say thank you!
Searches related to España Euro 2012