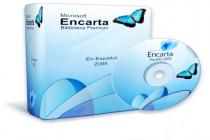 The first and most famous digital encyclopedia.
Microsoft Encarta in other languages:
Microsoft Encarta en castellano
Microsoft Encarta em português
Microsoft Encarta in italiano
Microsoft Encarta in het Nederlands
With its encyclopedia Encarta, Microsoft revolutionized the landscape of encyclopedias, offering a total child of the digital age, both multimedia and interactive, with which it managed for years to be the industry leader, with virtually no competition. During its existence, since currently the Encarta encyclopedia doesn't exist as such, since 1993 until 2009, which would leave its latest stable version, Encarta Premium 2009, the Microsoft Encarta encyclopedia became a must for students and professionals around the world.
Microsoft Encarta encyclopedia had steady growth since its launch. In 2008, the English edition of Microsoft Encarta, Encarta Premium 2008, contained over 62,000 articles, supplemented with photographs and illustrations, audio clips and videos, interactive activities, timelines, maps, an atlas, and tools to address student assignments. All available on a single DVD or multiple CDs, and a large number of languages, reflecting the success of the Microsoft Encarta encyclopedia in the world: English, Spanish, German, French, Portuguese, Dutch, Italian and Japanese.
There was also the possibility to consult the Encarta encyclopedia from the web, for free but with limited availability, and with advertising, or through an annual subscription for access to more content, with localized versions for each of the languages ​​in which Microsoft offered Encarta on CD, with differences between them thanks to the inclusion in these licensed versions of local or national materials.
In March 2009, Microsoft announced the abandonment of all editions of Microsoft Encarta, the encyclopedia well as its website, a departure motivated in part by the huge boom that had just reached another encyclopedic project, in this case only on-line and free: Wikipedia. This new encyclopedia, at the time of the disappearance of Encarta, housed more than 100,000 entries, a number that was never achieved by Microsoft Encarta.
Although it was so successful that even after its death, people are still waiting for new updates, filling the network of users looking for Encarta 2010, or even the possible creation of a hypothetical Encarta 2011 and more, on-line, of which so far there's sadly no news.
Searches related to Microsoft Encarta