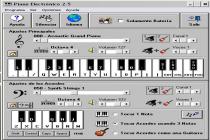 Up to 128 musical instruments brought together.
Electric Piano in other languages:
Electric Piano en castellano
Electric Piano em português
Electric Piano in italiano
Electric Piano w języku polskim
Electric Piano in het Nederlands
Electric Piano is a free application with which you can play a load of musical instruments, but with your PC keyboard!
Electric Piano includes 128 musical instruments, 47 drum sounds and the option to combine up to 7 instruments at once.
To make it easier to use, in Electric Piano you can group notes together, and play chords by pressing just one key (guitar chords always simulate the six strings).
Learn to play your favourite instrument for free with Electric Piano. If you have any doubts as to the working of the program, on the author's website you can find a couple of videos: a demo of the main functions, and how to play the music from Super Mario Bros.
Searches related to Electric Piano