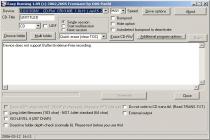 File backups, simply.
Easy Burning in other languages:
Easy Burning en castellano
Easy Burning is one of the easiest methods you can find to make backups on CD of your files. Its interface is very intuitive and easy to use. You can also download it for free.
Easy Burning works in two ways: integrated into the Windows shell (accesible via right clicking on any file and from the "Send to" menu) or running the program in a conventional way.
Easy Burning works with any CD recorder. It is able to copy folders, multiple files, images and any document format you want. You can also use it to make backups of your music collections in MP3. It also has support for multisession, and recording multifolder and multifile, and verifies the files once the recording is finished.
Searches related to Easy Burning