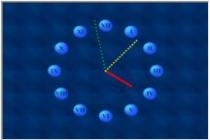 A fun screensaver that offers the view of an analogue clock as if it were totally drunk.
Drunken Clock Screensaver in other languages:
Drunken Clock Screensaver en castellano
Drunken Clock Screensaver is a fun screensaver for your PC, which has a collection of analogue clocks with distinct backgrounds. They all have the oddity that you see them as if they were drunk, in other words, distorted or dancing, creating a psychodelic effect.
On the Drunken Clock Screensaver author's website you can find many more packs of wallpapers and drunken clocks for when you get tired os eeing the same ones.
For it to work correctly you need to install DirectX 6 first.
Searches related to Drunken Clock Screensaver