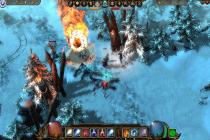 Return to the land of Drakensang to experience thousands of adventures in an on-line world.
Drakensang Online in other languages:
Drakensang Online en castellano
Drakensang Online em português
Drakensang Online in italiano
In its first stint as an on-line game, this Drakensang Online brings the spectacular world of Ander, which you already know from the Drakensang RPG saga, a persistent on-line world of spectacular quality, much more than you'll be accustomed to in RPG games, especially the free ones, as is the case of Drakensang Online.
Which, thanks to the Drakensang Online desktop client offered here to download, lets you play and avoid continued use of the Internet browser, thereby maximizing the performance of your PC, and avoiding excessive consumption of resources. In other words, Drakensang Online offers a spectacular on-line world, full of fantasy monsters, magic and mythical artifacts, battles and missions, not only for free, but multilingual!
So what are you waiting for to create your hero, among the 4 classes Drakensang Online offers you, and begin the adventure? The World of Ander and the dragons are waiting, so don't disappoint them!
Searches related to Drakensang Online