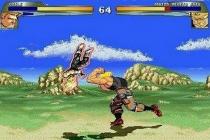 DragonBall vs Street Fighter ... what more do you need?
If you're talking about fighting games, there's one name that always comes out: Street Fighter, the classic among fight game classics. But if only for the number of games, the DragonBall saga has also left you a few strokes to remember.
What happens if you put these two names together? You get DragonBall vs Street Fighter! The ultimate fighting game! At least, for fans of the two. The magic of M.U.G.E.N. has made ​​this union, and now you only need to prove who's the better fighter!
Choose your character from among the many fighters offered by DragonBall vs Street Fighter, and then give as good as you get! Do you prefer to Songoku, Piccolo and Vegeta, or are you leaning more towards Ken or Chun Li?
Searches related to DragonBall vs Street Fighter