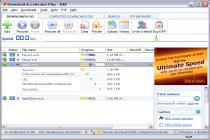 A fantastic free download accelerator.
When you want to download files from the Internet (whether it's from Internet Explorer, Mozilla Firefox, Opera, Google Chrome, etc.), in place of doing it directly from your browser, you can use a download manager or accelerator. This is not just to complete them more quickly, but also to be able to stop, pause or restart them when you like or need to. Download Accelerator Plus (DAP) is a great example of this type of application.
Download Accelerator Plus (DAP), in addition to fragmenting the downloads, is able to search for alternative sites to find everything more quickly, ignore a specific list of domains and addresses, preview multimedia files before downloading them, and download in the background without needing to show windows or other irritating elements on-screen.
Download Accelerator Plus (DAP) works perfectly with any web browser, and in all types of Internet connection: modem, cable, ADSL, etc.
Searches related to Download Accelerator Plus (DAP)