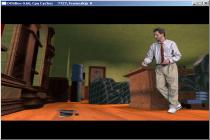 An MS-DOS emulator where you can load all your games.
DOSBox in other languages:
DOSBox en castellano
DOSBox em português
Would you like to replay the first games you ever played? Well, then you can't miss out on DOSBox, an MS-DOS operating system emulator that's free and open source, where you can refresh your games with levels, graphics and original sounds.
DOSBox is a treat for the nostalgics among you! You can run MS-​​DOS from any operating system (DOSBox uses an SDL library which makes it very portable) and execute instructions and programs from the command line.
Download DOSBox for free and you can easily emulate video games designed for the first processor!
Searches related to DOSBox