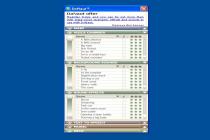 A free utility to modify your tone of voice, and add effects in Internet telephone programs.
DoNaut in other languages:
DoNaut en castellano
DoNaut em português
DoNaut in italiano
DoNaut is a program you can download totally for free and which can integrate with the most popular Internet voice telephony programs. Its aim is to disconcert and entertain your contacts when they call you.
DoNaut offers you the chance to alter your voice with a wide range of sounds. You can choose to add a filter to your voice so it sounds like a Smurf, a robot, a terrible monster, etc. You can also add music and sound effects in the background, like the forest, or even like you are flushing the toilet.
DoNaut is compatible with the most popular voice messaging systems, like Skype, Google Talk or MSN Messenger.
Searches related to DoNaut