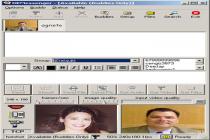 A messenger in which you can see the person you're talking to? Here it is!
DK Messenger in other languages:
DK Messenger en castellano
DK Messenger em português
DK Messenger heralds a new generation of instant messaging. In it you can communicate with your contacts while you see them face to face. The program also supports file transfers, voice conversation and texting, and all the other usual options for this type of application. But the surprises don't stop there.
If you don't have a microphone, DK Messenger incorporates a splendid system of voice synthesizing, thanks to which the program reads the text you write to communicate with your contacts. Completely new, and a magnificent surprise in the field of instant messaging: DK Messenger.
Searches related to DK Messenger