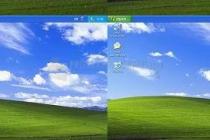 An original screensaver that moves around your screen at random.
DeskRoller ScreenSaver in other languages:
DeskRoller ScreenSaver em português
DeskRoller ScreenSaver, as the name indicates, is without excessive attractions, but with a really curious visual-graphic effect.
DeskRoller ScreenSaver moves across the complete desktop of your PC completely at random. But also, it includes a collection of options you can modify as you like to adapt it to your wishes. For example: select the speed it moves across the desktop. Once in action, you can stop it moving just by pressing the spacebar.
Searches related to DeskRoller ScreenSaver