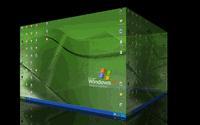 Enjoy various virtual desktops in your PC.
Desk Hedron in other languages:
Desk Hedron en castellano
Desk Hedron em português
Desk Hedron in italiano
Desk Hedron w języku polskim
Desk Hedron in het Nederlands
Desk Hedron is a small program with which you can enjoy up to 9 virtual desktops in your PC. This is especially useful for those who work with a multitude of open applications, and want to move around them quickly.
Via a cube-shaped interface, Desk Hedron lets you move to each of them via very attractive 3D effects, ideal for those who like the features included in programs like Compiz in Linux.
Desk Hedron doesn't need to be installed in the system, and you can just double click on the program icon for it to run discretely in the background, ready to make any desktop changes fluidly.
Searches related to Desk Hedron