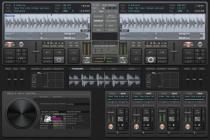 A complete music mixer for DJs.
Deckadance in other languages:
Deckadance en castellano
Deckadance em português
Deckadance in italiano
Deckadance is a DJ mixing tool that's very comprehensive and intuitive, one which you can easily control via the keyboard and mouse on your PC or, if you're a professional DJ, with vinyl records and MIDI controllers.
Add all the music and sound effects you want with Deckadance, like automated mixing, looping, silences, filters, etc.
To start creating your Deckadance DJ sessions you only have to add songs and sound clips to the playlist and mix them as you like.
Download and customize Deckadance for free with the many shells or skins that are available on-line!
Searches related to Deckadance