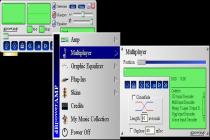 A practical, free audio player, for all formats.
dBpowerAmp Audio Player in other languages:
dBpowerAmp Audio Player en castellano
dBpowerAmp Audio Player is a free audio player, with which you can listen to all music formats: MP3, WMA, Ogg, WAV, MID, Real Audio, music CD and various others.
The dBpowerAmp Audio Player interface is personalizable via skins, and offers all the options and sound effects of the larger players (equalizers, minimization, playlists, etc).
These are some of the best options and possibilities of dBpowerAmp Audio Player:
- Crossfader effect: quieten the end of one song as the next song gets louder. Deletes all the silences between songs.
- Diverse skins to view on-screen (spectrum analyzer, oscilloscope).
- Reduced-size on-screen controls.
- Your favourite tracks are played more often.
- Modular design: just load the modules you're going to use.
- ID3 tag editor.
- Automatic volume normalization.
Searches related to dBpowerAmp Audio Player