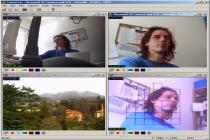 Software to manage live webcams, or home-made videosurveillance.
ContaCam in other languages:
ContaCam en castellano
ContaCam em português
ContaCam in italiano
ContaCam w języku polskim
ContaCam is a free management software for webcams, with which you can control the viewing of live images from your webcam. But above all, ContaCam is a most useful program for mounting home video surveillance networks, using the webcams you have available.
ContaCam allows you to configure its use to take screen shots of the area controlled by the web cam (or cams), you control the program from time to time to define, or directly manage, the image recording through the webcam, both complete cycles of 24 hours or recordings limited to the appearance of movement in your area, which will be automatically detected by ContaCam.
ContaCam allows you to keep track of recordings, edit and assemble films with video clips, make them smaller as you shoot, and many other possibilities. A very complete program, without doubt, so monitor everything that happens around you with ContaCam!
Searches related to ContaCam