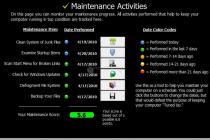 Improving your system efficiency will be child's play.
Complete System TuneUp in other languages:
Complete System TuneUp em português
Complete System TuneUp is a complete program which offers you various tools to increase the efficiency of your system. From its main interface you have access to all types of functions to delete files that are useless, programs that run on system startup ...
In the left hand area of Complete System TuneUp you will see a list of the main task groups. From there you can quickly access: a list of all the programs that run on Windows startup, a file cleaner (both temporary and files that place your privacy in danger), and even a Registry analyser to correct the information on invalid entries that could affect the correct working of the system.
Complete System TuneUp has a special area where it shows when the last time the main tasks for system maintenance were done, with a simple colour code which shows you when the time comes to do an important task.
Searches related to Complete System TuneUp