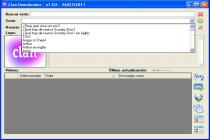 Easily download all the children's videos offered by Clan TV.
Clan Downloader in other languages:
Clan Downloader en castellano
Clan Downloader em português
Clan Downloader in italiano
If you have a toddler, you know for sure what Clan TV is: the channel of Spanish public TV (RTVE) dedicated to children. Well, this channel offers free on their website the videos of all the cartoon programs they broadcast, so that you can re-watch them whenever you want.
And now, thanks to this Clan Downloader, you can also download all the videos you want from this channel, in a convenient and simple way, and equally free. Just download and install Clan Downloader, and from its interface you can view and download shows like SpongeBob, Batman Beyond, Pocoyo, Lazy Town, Dora the Explorer, The Garden of Dreams ...
Clan Downloader will let you know, from the interface, both of the series available for downloading at any time, and the chapters available, plus diverse information for the series. And all without even entering the website.
Searches related to Clan Downloader