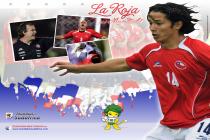 Support the Chilean football team on your screen!
Chile World Cup 2010 in other languages:
Chile World Cup 2010 en castellano
Chile World Cup 2010 em português
Chile World Cup 2010 in italiano
The football World Cup is an event that all football fans eagerly await every four years, especially if your team qualifies for the championship finals. As was the case with Chile in the World Cup in South Africa in 2010, an event commemorated by this free wallpaper.
The Reds, as the Chilean team is known (a nickname for this world they had to share with the Spanish team) arrived in South Africa with a hunger for titles. And, above all, with the intention of doing the best possible in the competition, with their star Matias Fernandez in the lead.
With this wallpaper, Chile World Cup 2010, you can, for free, start each day with the colours of your choice, lighting up your screen every time you turn on your PC. Download Chile World Cup 2010, and support Chile every day in any competition they take part in!
Searches related to Chile World Cup 2010