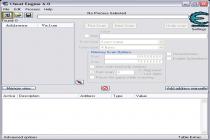 Modify your games to get to the end.
Cheat Engine in other languages:
Cheat Engine en castellano
Cheat Engine em português
Cheat Engine in italiano
Cheat Engine w języku polskim
Cheat Engine is a small, open code utility designed to cheat in your favourite games. With this application you can modify the content of your games so that they are easier/harder to complete.
Apart from modifying the difficulty of your games, with Cheat Engine you can also change other parameters, like increasing the health or lives of your character, deleting enemies more quickly, or unblocking other game elements. To do this, Cheat Engine comes equipped with a memory scanner, which lets you quickly explore the variables used in each game, offering you the chance to change them as you wish.
Cheat Engine is also complemented by other tools like a debugger, an assembler, direct 3D manipulation tools, inspection tools, and above all, a big tutorial that gives you the steps to take to modify your games.
Searches related to Cheat Engine