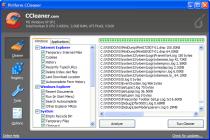 Detox and revive your PC.
CCleaner Portable in other languages:
CCleaner Portable en castellano
CCleaner Portable em português
CCleaner Portable in italiano
Optimize your PC with CCleaner, a very useful tool to erase everything that's useless on your hard disk to leave more free space for your files.
It will eliminate search and download histories, the cookies and urls of the websites visited using browsers like Internet Explorer, Firefox and Opera, the temporary files from other programs like Microsoft Office, Media Player, eMule, Google Toolbar, Kazaa, WinRAR, Nero, and much more.
It also optimizes the operating system as it cleans the recycle bin, temporary files, recent documents, search, cache and the Windows registry.
CCleaner has multiple levels of security, which will ensure that none of your files or relevant information is deleted.
The best thing about CCleaner is that it's small, portable, fast and free. These are all major advantages, so download it now!
Searches related to CCleaner Portable