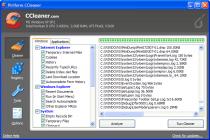 The essential program for cleaning your PC.
CCleaner in other languages:
CCleaner en castellano
CCleaner em português
CCleaner in italiano
CCleaner w języku polskim
CCleaner in het Nederlands
CCleaner is one of the programs considered essential for the correct working of a PC, and has the advantage of being a free download and multilingual.
Focused on optimizing, cleaning and maintaining the privacy of the PC it works in, CCleaner deletes a lot of the unnecessary files that are involuntarily created every day (above all with Internet use), freeing up space on the hard drive and letting Windows work faster. CCleaner also cleans any trace of activity in your Internet activity log.
On the other hand, CCleaner brings an interesting Windows Registry cleaner, able to delete invalid entries and make a previous (if desired) backup of the the Registry status. Another big advantage of the program is the speed at which it works, in comparison with other, similar tools.
With CCleaner you can clean, among other things, the following file types:
- Temporary files, logs and cookies in Internet Explorer, Mozilla Firefox, Opera, Google Chrome and Safari.
- the PC Registry.
- the Registry in general.
- Temporary files for applications like Windows Media Player, Kazaa, eMule, the Google toolbar, Netscape, Adobe Reader, Nero, Microsoft Office, WinZip, WinRAR, WinAce and much more.
Searches related to CCleaner