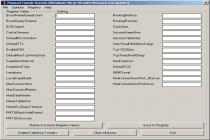 Improve Internet speed by up to 30%, modifying the TCP/IP registers.
CableNut in other languages:
CableNut en castellano
CableNut lets you modify and optimize practically any adjustment in Windows relating to the TCP/IP.
Thanks to CableNut you can improve Internet speed by up to 30% (the results can vary depending on the system). A big advantage of the program is that it automatically detects the operating system, and adjusts all the configurations based on that.
CableNut includes satellite Internet CSS files, and also offers you the option to undo any change you make, so that risk in non-existent. You can download an update parche from the author's website after installing the complete version of the program.
Searches related to CableNut