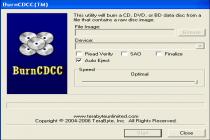 Record ISO files to CD or DVD even when the recording software doesn't support this format.
BurnCDCC in other languages:
BurnCDCC en castellano
BurnCDCC em português
BurnCDCC in italiano
BurnCDCC is a small utility that could be a big help if your recording software doesn't support ISO format. With BurnCDCC you can record an ISO file to CD or DVD, even if your program doesn't allow it. That's a really big help. Its user interface and look is really basic, but don't be fooled because BurnCDCC has very interesting options, like:
* writing verification: be sure that the disc you recorded isn't damaged or corrupted.
* Session at Once (SAO): the laser stays on continually during the whole recording. This means there are no gaps in the recorded disc.
* finilizing the disc: it works so you can't write more on the recently recorded disc.
* select the recording speed.
Searches related to BurnCDCC