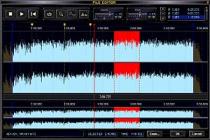 The creative program preferred by DJs.
BPM Studio Pro in other languages:
BPM Studio Pro en castellano
BPM Studio Pro em português
BPM Studio Pro in italiano
BPM Studio Pro w języku polskim
BPM Studio Pro in het Nederlands
BPM Studio Pro is the ideal application for DJs to develop all their creative skills, as it includes controls and functions which are difficult to find in other mixing programs.
Among the main features of BPM Studio Pro you will find:
- It has thousands of CDs already prepared for you to play back.
- It automatically searches for the data on the track you want to use in the mix: artist, title, year, genre, etc.
- It has a Beats Per Minute counter in real time.
- It can control the time and tone of each song.
- It has support for loops, searches, automatic gain control, playlists, logs, remote control via telnet or HTTP, and much more.
- It has an integrated CD recorder.
If you like music, but not just playing it to listen to, and want to enter the creative of world of DJs, download BPM Studio Pro for free and discover its possibilities.
Searches related to BPM Studio Pro