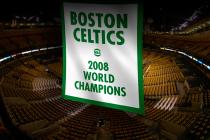 A commemorative desktop wallpaper celebrating the Boston Celtics as NBA Champions 2008.
Boston Celtics 2008 NBA Champions in other languages:
Boston Celtics 2008 NBA Champions en castellano
More than a decade after their last title, the Boston Celtics in 2008 won their seventeenth NBA Championship, in the hands of their coach Doc Rivers, and three of their main stars: Ray Allen, Kevin Garnett and the MVP, Paul Pierce. The fans of this legendary Massachussets franchise can now celebrate and commemorate this achievement with this wallpaper in which you can see the team championship flag from 2008 across the Celtics arena.
This Boston Celtics 2008 NBA Champions wallpaper is in a size of 1024x768 pixels. However, if you want a different size, you can find others and download them for free from the author's website.
Searches related to Boston Celtics 2008 NBA Champions