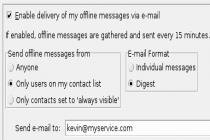 A new, free chat and instant messaging client that is defended by an encrypted and secure setting.
BitWise Chat in other languages:
BitWise Chat en castellano
BitWise Chat em português
BitWise Chat is a free direct messaging and chat client using voice, that encrypts all the messages and file transfers. BitWise Chat is designed to operate with the minimum intervention by the server, and offers text macros, offline messaging, personalizable absence messages, etc. Of course it also has file transfers and a web interface to send messages and check mails offline, so that you will have accesses to messages even when not connected, just by having a web browser to hand. In summary, BitWise Chat is a really easy to use chat client, and one which offers a private and secure setting, a long way from traditional instant messaging, so popular and unsecured. The program uses a unique runnable that needs no installing. It requires a totally free registration for an account, so that you can activate your username.
Searches related to BitWise Chat