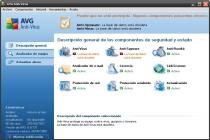 Advanced protection against the dangers on the Internet.
AVG Antivirus in other languages:
AVG Antivirus en castellano
AVG Antivirus em português
AVG Antivirus in italiano
AVG Antivirus w języku polskim
To be well protected on the Internet, nothing beats having a good antivirus on your PC. And "good virus" is synonymous with AVG Antivirus, a great security tool that will protect you from viruses, Trojans, worms, spyware, rootkits and any other threat coming from the net.
AVG Antivirus offers protection in real time and in all areas: visiting web pages, downloadinging files from the Internet, emailing, banking, online shopping, instant messaging, and so on. One of the highlights of AVG Antivirus, beyond its proven efficacy as an anti-virus, is its very low resource consumption. This program is able to offer the best protection without your PC suffering in the least. Moreover, as one would expect in a high-quality antivirus, this is a program that is constantly updated.
Therefore, AVG Antivirus is a valid option to protect you from all dangers lurking on the Internet. Download this free trial version and see for yourself.
Searches related to AVG Antivirus