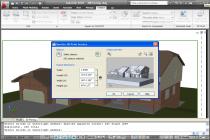 The best for professional 2D and 3D design.
AutoCAD in other languages:
AutoCAD en castellano
AutoCAD em português
AutoCAD in italiano
AutoCAD w języku polskim
AutoCAD in het Nederlands
Talking of CAD is talking of AutoCAD. This very complete application has all the necessary tools to create drawings and schemes in 2D and model objects in 3D.
Thanks to its manageable interface, it is possible to edit any of the parts that make up a model individually, just by choosing from a small tree of components that are found on one of the sides in AutoCAD. This way, you can make quick corrections without touching other parts of the project.
The objects modelled in 3D can be designed so they look like real objects, thanks to the option to add all types of texture. Plans, maps, pieces ... everything you can imagine can be designed thanks to AutoCAD. That makes it an essential resource for architects, surveyors, civil engineers, etc.
Searches related to AutoCAD