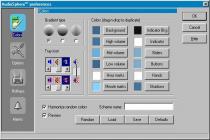 Substitute the old volume control for a more modern one.
AudioSphere in other languages:
AudioSphere en castellano
AudioSphere em português
AudioSphere in italiano
AudioSphere is a substitute for the standard control that appears by default in the Windows operating systems.
And that's because AudioSphere not only incorporates the most useful functions of the old Windows volume control, but also offers you a large range of choices like, for example: delete the volume frequency adjustment, replacing it with four preselected volume controls you can change when you want, adjust the balance, control via keyboard shortcuts, etc.
AudioSphere also has Bass, Treble, and incorporates the option to change the channel (to reverse the stereo channels) or silence the volume with a single mouse click. The program interface also includes an analogue clock you can configure as you like and change the colour via the masks included.
Searches related to AudioSphere