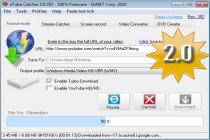 Download videos from portals like YouTube, DailyMotion, etc.
aTube Catcher in other languages:
aTube Catcher en castellano
aTube Catcher em português
aTube Catcher in italiano
aTube Catcher w języku polskim
aTube Catcher in het Nederlands
Have you seen a video on YouTube that you like and want to download for free? The answer is aTube Catcher, a specialist program for capturing video and other content from portals like YouTube, DailyMotion, Veoh, Google Video, Yahoo!, Metacafe, Spike, RTVE, and many more.
The biggest advantage of aTube Catcher, in addition to the compatibility with dozens of websites, is that it can directly convert the video you download to a format you want. As you know, the videos stored on sites like YouTube are usually in FLV format (Flash Video), although this isn't exactly popular among multimedia players. However, with aTube Catcher the video will be stored in your PC in the format you indicate: MPEG, AVI, MP4, 3GP, 3G2, WMV, PSP, MOV, FLV, etc.
Finally, aTube Catcher does actually include an FLV player, and it can also be used as an independent video converter for those stored in your PC (and not necessarily downloaded from the mentioned websites).
Searches related to aTube Catcher