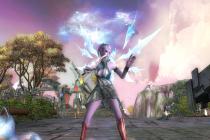 A real time strategy game in a post-apocalyptic world.
Argo Online in other languages:
Argo Online en castellano
Argo Online em português
Argo Online in italiano
Argo Online, the new game from Alaplaya, offers you the chance to enter a post-apocalyptic world, half way between cyberpunk and fantasy. It's the same for the genre, which is also half way between an action RPG and a real time strategy game.
In the world of Argo there live two races, the Noblian, defenders of technology as a means of advancing the human race, and the Floresslah, who live in symbiosis with Nature and who consider themselves its protector against machines. Which side do you feel most for? Choose one of them and enter the world of Argo Online!
Each race offers you 8 different character types, in addition to multiple options for personalizing them, one of the strong points of Argo. Discover the rest for yourself, and for free!
Searches related to Argo Online