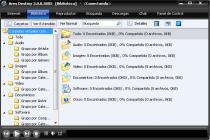 A powerful P2P file transfer client similar to Ares.
Ares Destiny in other languages:
Ares Destiny en castellano
Ares Destiny em português
Ares Destiny in italiano
Ares Destiny w języku polskim
Ares Destiny in het Nederlands
Ares Destiny is an extraordinary P2P file transfer client whose activity range also extends to BitTorrent networks and Shoutcast radio stations. As you can imagine, it is based on the popular Ares, keeping all its functions and main advantages (integrated searcher, player and web browser, chat, file libraries, file scoring using stars, downloads using various sources at once, the user interface is identical, etc) but adding some elements of its own making.
If, for any reason, the standard version of Ares isn't working well enough for you or as it should, you can always try alternatives. Ares Destiny is here to help you. However, remember that the program comes with a small publicity suite added, as an adware. In other words, using it is completely free, in exchange for some publicity appearing on your screen every now and then.
Searches related to Ares Destiny