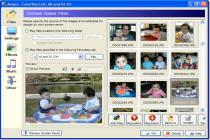 A powerful screensaver creator with your music in the background and more than 150 transition effects.
Amaze in other languages:
Amaze en castellano
Amaze is a powerful screensaver creator so you yourself can create screensavers from your own favourite photos, and add your own background music.
One of the most interesting elements of Amaze is that it has its own editor to touch up photos and create collages from two or more photos.
Amaze also has more than 150 transition effects (some of them really nice, others not so) so that the movement between photos is impressive and attractive, almost as much as the photos themselves.
Searches related to Amaze