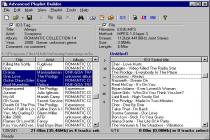 A program to create playlists so that your songs are always in order.
Advanced Playlist Builder in other languages:
Advanced Playlist Builder en castellano
Advanced Playlist Builder in italiano
Advanced Playlist Builder is a program that lets you create music playlists, so that your favourite songs are always ordered.
To do this, you just have to tell the program in which folder your songs are, or in which CD, and Advanced Playlist Builder will show you their ID3 tags. From then on you can do the following: order by author, album, music genre, year, select just the files you want, position them as you wish, etc and then it's ready to create a list.
With Advanced Playlist Builder you can creat as many lists as you want and have a music selection ready at any time. if you want, you can also look for songs using any of these parameters in the ID3 tags. This makes it easier to create lists. And if some songs don't have ID3 tags, or are damaged, no problem. The program will let you edit them easily.
You can print out the lists created with Advanced Playlist Builder with all the content to make it easier to search for songs.
Searches related to Advanced Playlist Builder